ROADSHOW 2019: A LOOK TOWARDS THE FUTURE
– from WINDTRE BUSINESS
NEW BUSINESS CHALLENGES
In November, WINDTRE BUSINESS gathered its Partners and the entire sales force for an important event, aimed at presenting new objectives and commercial strategies. Thanks to the continuous innovative drive and the constant updating of the offers proposed, WINDTRE BUSINESS sets itself among its objectives the further strengthening of its presence in the Small Medium Enterprises market. This expansion project sees its basis in the strength and competitiveness of fixed solutions, which reach their maximum efficiency thanks to many new options. Among these, Office Smart stands out, designed to help the customer make business communication smarter and leaner, while mobile solutions, on the other hand, see a further leap forward, thanks to the Super Network: faster, more powerful and with even greater national coverage (4G coverage reaches 98.1%). In this regard, WINDTRE boasts the largest number of BTS antennas (base transceiver station) present in Italy compared to its competitors, proof of an increasingly widespread diffusion throughout the national territory.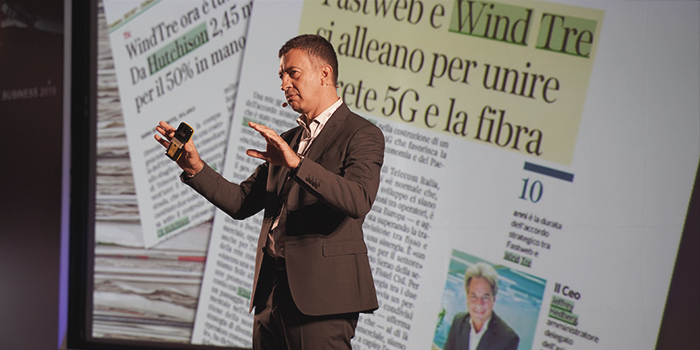 During the debate, the concept of "convergence" assumed particular importance: helping the end customer to find the offer that best suits his needs for both the fixed and mobile sectors. All this, in order to streamline the management flows of their company telephone line and exploit the potential of a telephone operator increasingly projected towards the future. The presentation of a collaboration with Samsung was also designed to guarantee customers reliable and quality at more than competitive prices, in order to help them access devices that can support the continuous challenges of a constantly evolving market. A further push is foreseen for WINDTRE BUSINESS digital services, designed to guarantee client companies a safe and reliable partner,
The 4 Roadshows, held in Milan, Rome, Naples and Verona, also provided for in-depth sales forums, for an event that proved to be constructive and formative as well as professional and stimulating. WINDTRE, the largest national mobile operator, today sets itself the ambitious goal of becoming the most innovative digital Telco with the best mobile network in Italy. A goal shared with the agents present in the area, whose synergy is essential to continue to increase an expansion that, day after day, becomes more and more widespread.

© All rights reserved