SELFCARE WINDTRE BUSINESS, TO MANAGE EVERYTHING INDEPENDENTLY
– from WINDTRE BUSINESS
The freedom to manage all your offers independently? With the Selfcare portal of WINDTRE BUSINESS it is now possible! Thanks to modern graphics and continuously updated features, you can consult and manage every aspect of your company's connectivity. A constantly evolving portal, with contents and tools that always put the business and the company's needs first. The Selfcare portal is supported by the WINDTRE BUSINESS app, available on the Google Play Store and App Store, which allows you to monitor consumption and manage your needs even on the move.
THE REGISTRATION
The Selfcare portal allows customers to monitor all offers, both for those with the WINDTRE BUSINESS brand, as well as Tre Business and Wind Business. The platform is compatible with all major browsers and allows smooth navigation from both the web and mobile devices. Its innovative responsive technology allows dynamic adaptation from tablets and smartphones. Registration on the Selfcare portal is simple, intuitive and can be completed in just a few steps online. Employees can register both from the web and from the app. The Company Managers, on the other hand, must register on the web customer area. The credentials obtained will be unique and will allow access to both touch points.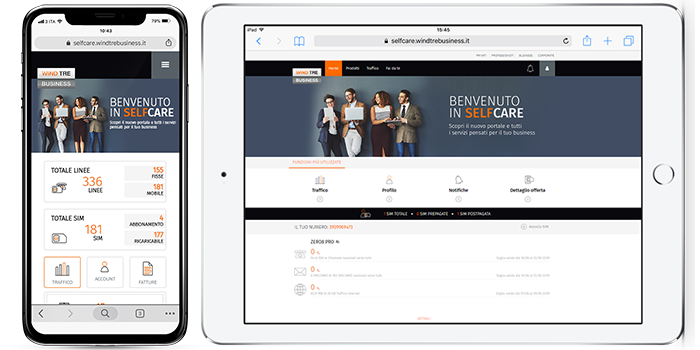 A CONTINUOUS INNOVATION
THE PROFILES
The portal is structured to best meet the different needs of each user, through a differentiation of profiles for managers and employees. The Manager profiles allow visibility of all the consistency, both fixed and mobile, with the related traffic details for each line. This profile is able to keep company accounts and invoices under control, proceeding where necessary with payments and changes in company data; the managers are also enabled to manage the active lines through all the modification functions of the subscribed offers, such as the management of options and data packages. The End User profile, on the other hand, is designed for employees.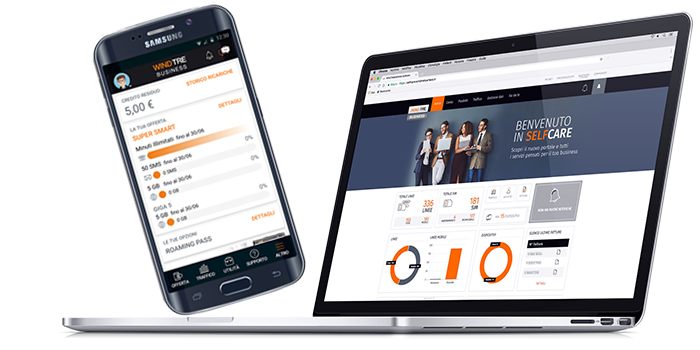 To ensure a unique and functional experience for its customers, WINDTRE BUSINESS is committed to constantly improving and updating the features and functionality of both the app and Selfcare. Don't miss the opportunity to simplify your working day and save time: download the app and register on the Selfcare portal to get started!

© All rights reserved